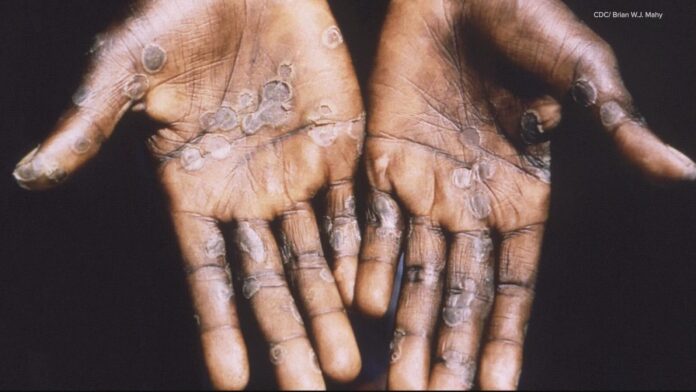 A senior WHO official described the unexpected epidemic of the uncommon illness monkeypox in affluent nations as "a random event" that may be explained by hazardous sexual behaviour during two recent major gatherings in Europe.
Dr David Heymann, former chief of WHO's emergency section, told The Associated Press that the dominant assumption for the disease's spread was sexual transmission among homosexual and bisexual males during two raves in Spain and Belgium. Monkeypox has never caused major outbreaks outside of Africa, where it is prevalent in animals.
"We know monkeypox can spread when there is close contact with the lesions of someone who is infected, and it looks like sexual contact has now amplified that transmission," said Heymann.
This is a dramatic deviation from the disease's normal pattern of distribution in central and western Africa, where people are mostly infected by animals such as wild rats and monkeys and epidemics do not transcend borders.
To date, the WHO has documented more than 90 cases of monkeypox in a dozen countries, including the United Kingdom, Spain, Israel, France, Switzerland, the United States, and Australia.
According to a top health official in Madrid, the Spanish metropolis has so far reported 30 confirmed cases. Authorities are looking into possible links between a recent Gay Pride celebration in the Canary Islands, which drew 80,000 people, and incidents at a Madrid sauna, according to Enrique Ruiz Escudero.
On Friday, Heymann presided over an emergency meeting of WHO's the advisory committee on infectious disease hazards to review the ongoing outbreak and stated there was no evidence that monkeypox had evolved into a more dangerous form.
Monkeypox often causes fever, chills, rash, and facial or genital lesions. Close touch with an infected individual, or their clothing or bed linens, can transmit it, although sexual transmission has not yet been documented.
Most people recover from the sickness within a few weeks without needing to be hospitalized.
Vaccines for smallpox, a similar illness, are also useful in preventing monkeypox, and certain antiviral medications are under development.
Although the condition can be deadly in roughly 10% of cases, no deaths have been documented in the present instances.
According to WHO, the epidemic is "atypical," and the fact that cases are being reported in so many different nations shows that the disease has been quietly spreading for some time. As summer approaches across Europe, the agency's Europe head cautioned that large crowds, festivals, and parties might hasten the spread of monkeypox.
Other experts have noted that it will be difficult to determine if the current spread of monkeypox across Europe is due to sex or close contact connected to sex.
"By definition, the sexual activity involves intimate contact, which one would expect to increase the likelihood of transmission, regardless of a person's sexual orientation or mode of transmission," said Mike Skinner, an Imperial College London virologist.
Dr Susan Hopkins, the senior medical adviser of the UK's Health Security Agency, said on Sunday that she expects additional monkeypox cases to be detected in the nation "on a daily basis."
Officials in the United Kingdom have stated that "a significant proportion" of the cases in Britain and Europe have been in young males who have no history of travelling to Africa and who are homosexual, bisexual, or have intercourse with men.
Heymann, who is also a professor of infectious diseases at the London School of Hygiene and Tropical Medicine, said the monkeypox outbreak was likely a random event that might be traceable to a single infection.
"It's very possible there was somebody who got infected, developed lesions on the genitals, hands or somewhere else, and then spread it to others when there was sexual or close physical contact," Heymann hypothesized. "And then there were these international events that seeded the outbreak around the world, into the U.S. and other European countries."
He highlighted that broad transmission of the illness was improbable.
"This isn't COVID," he explained. "We need to slow it down, but it does not spread through the air, and we have vaccines to protect us."
According to Heymann, research should be undertaken quickly to discover if monkeypox may be spread by persons who do not have symptoms, and groups at risk of the illness should take care to protect themselves.